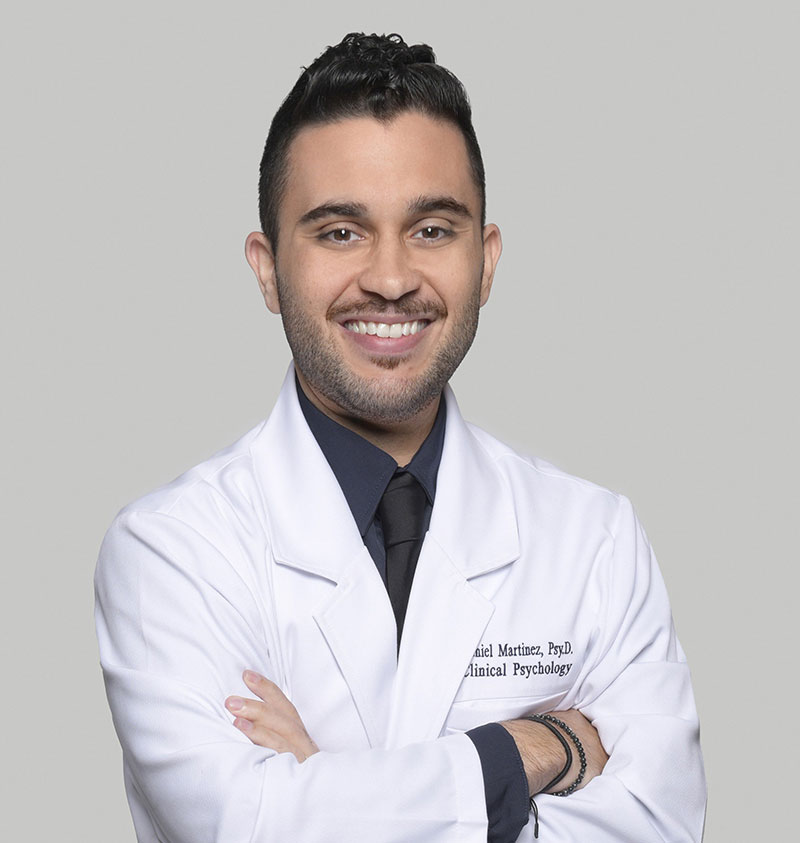 Dr. Daniel Martinez, PsyD, specializes in clinical psychology, health psychology, and neuropsychology. His experiences include working with individuals adjusting to acute distress, past or current trauma, mood disorders, anxiety, and sports psychology. He believes provider rapport is crucial, competency is expected, and success is best achieved when working collaboratively.
Dr. Martinez completed his doctoral studies at Nova Southeastern University. At end of his internship at Broward Health Systems, he was the Chief Psychology Resident/Intern. Presently, Dr. Martinez is a licensed clinical psychologist in Florida and a member of the American Psychological Association (APA). Academically, Dr. Martinez was awarded the James Farquhar Award (Distinguished Academic and Service Award from NSU), has given multiple professional medical lectures and presentations, and was a founding member of the Delray Beach Health and Wellness Council. To ensure effective communication with all patients, Dr. Martinez is bilingual and offers treatment in both Spanish and English.
In his time off, Dr. Martinez is an avid sports fan, supporting multiple Miami-based teams, and is a private baseball coach who often incorporates his understanding of Sports Psychology into his coaching.